Spa Services
Exfoliating Scrubs
We offer 2 types of exfoliating scrubs.
Sugar | Salt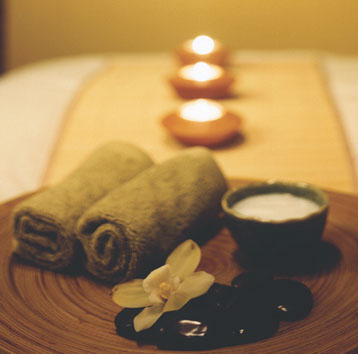 We customize our scrubs with hand selected aromatherapy. Examples: Detoxifying, Sore Muscle Relieving, Firming, Uplifting, Lavendar, Relaxing, Green Tea & Lime Leaf, Pomegranite & Cranberry, Milk & Honey, Mango & Mandarin.
Sugar Scrub
Our most popular scrub
Your body is scrubbed with natural brown sugar containing gylcolic acid and joba oil to exfoliate dead skin cells, increase circulation, stimulate the flushing of toxins, and warm the muscles. Warm, moist towels are used to remove the sugar and the treatment is finished with a customized aromatherapy hydrating body butter. This leaves your skin smooth, radiant, and moist. An excellent treatment when you have a special event or just need to feel radiant, glowing, and pretty.
90 Minutes @ $100.00
---
Dead Sea Salt Massage
Dull, dry skin is massaged away to reveal a fresh glow with this stimulating formula containing rich minerals and therapeutic Dead Sea Salts. Natural Luffa and a special blend of Jojoba, Avocado, Peach, and Sunflower oils are added to replenish and soften skin. Please, No fresh-shaved legs as salt will irritate and burn skin. Your custom scented aromatherapy body butter is used during your one hour massage following the 30 minute exfoliation.
With One Hour Massage
90 Minutes Total @ $100.00
---
Other Body Treatments
Associates Therapeutic Massage offers the following full body treatments for your health and relaxation.
Dry Skin Brushing
This ancient oriental therapy exfoliates the skin, the body's largest organ. It also stimulates the lymphatic and immune system. Oriental Medicine states that daily dry brushing is the greatest way to increase your longevity and health. You will receive your own brush and have a lesson on how to dry brush at home.
30 Minutes @ $37.00
---
Paraffin Hand Treatment
Your hands are dipped into warm paraffin wax providing deep, penetrating heat giving relief from joint stiffness and arthritis. The wax is peeled off and the therapist uses body butter to hydrate the hands. The service is incorporated into your hour session for an additional cost of only $15.
---